RESEARCH INTERESTS: Understanding how the structure, biophysical properties, and synaptic connections of a neuron influence its signal processing function within the surrounding neural circuit.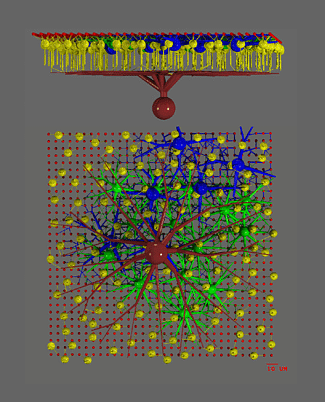 RESEARCH TECHNIQUES: Analysis of the role of synaptic and biophyical properties, morphology, and noise in a neural circuit's performance. Electrophysiological recordings. Computer simulation of neural circuitry. Ideal observer analysis of neural circuit performance.
RESEARCH SUMMARY: My laboratory studies how retinal circuitry processes visual signals. We analyze what is known about a circuit, construct a biophysically realistic model of it, and through simulation attempt to reconcile the circuit's known physiological properties with the function of its neural components. This allows us to suggest a functional interpretation for biophysical features such as dendritic branching, density of voltage-gated membrane channels, and specific location, strength, and properties of synaptic inputs. Including the noise properties of membrane channels and synaptic vesicle release, we generate realistic noise properties that we compare directly with recordings from live neurons. We currently study 5 circuits: 1) the cone photoreceptor to horizontal cell network; 2) signal transmission in the cone bipolar cells, including their feedback from amacrine cells; 3) the pathway from rod photoreceptors to ganglion cells used during dark adaptation; 4) the brisk-transient (alpha) ganglion cell, its spike generator, and its presynaptic circuitry; and 5) the direction-selective ganglion cell and the starburst amacrine network that shapes its responses.
Former lab members:
Mark Van Rossum worked on the rod bipolar and beta ganglion cell models.

Narender Dhingra worked on the ideal observer analysis of ganglion cells.

John Tukker worked on the starburst amarine model.

Jian Liu worked on bipolar cell and ganglion cell electrophyiology.

Ying Xu worked on measuring ganglion cell sensitivity and the On-bipolar cell synapse.

Mike Schachter worked on the dendritic spike DSGC model.

Misha Lipin worked on the cone-horizontal cell model and the starburst amacrine microcircuit.

Khaldoun Hamade worked on the model of DS in non-DS ganglion cells.

Andrew Hsu worked on the model of cone coupling.

Sneha Ravi worked on the ephaptic synapse model.

Xiao Li worked on the asymmetrical DSGC model.

Tony Tan worked on the ephaptic synapse model.

James Guevara worked on the ephaptic synapse model.

Richard Yim worked on the contrast sensitivity for stimuli in the On and Off ganglion cell models.

Umar Sheikh worked on the signal to noise ratio of the dendrites and soma of the DSGC.

Aubrey Moat and Sergey Kuznetsov worked on bipolar cell reconstructions and models.

Moriah Cesaretti worked on models and movies of amacrine cell networks.